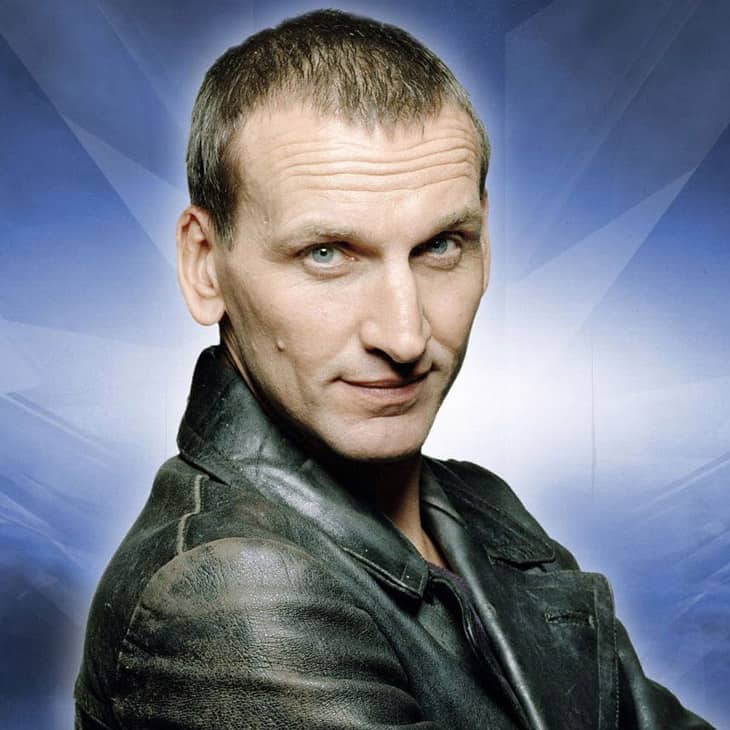 Christopher Eccleston is an English actor. The recipient of an Emmy Award and nominations for two BAFTA Awards, he is best known for his television and film work, which includes his role as the ninth incarnation of the Doctor in the BBC sci-fi series Doctor Who, playing Pastor Matt Jamison in The Leftovers, and his collaborations with filmmakers Danny Boyle and Michael Winterbottom.
Eccleston trained at the Royal Central School of Speech and Drama in London and made his professional acting debut onstage in a Bristol Old Vic production of A Streetcar Named Desire. He garnered attention for his film roles as Derek Bentley in Let Him Have It (1991) and David Stevens in Shallow Grave (1994), and for his television performances in Cracker (1993–1994) and Hillsborough (1996). His BAFTA Award-nominated performance as Nicky Hutchinson in the BBC miniseries Our Friends in the North (1996) established him as a household name in the United Kingdom, and he followed the role with appearances in the films Jude (1996), A Price Above Rubies (1998), Elizabeth (1998), eXistenZ (1999), Gone in 60 Seconds (2000), The Invisible Circus (2001), The Others (2001), 24 Hour Party People (2002), and 28 Days Later (2002), as well as television roles including the drama series Clocking Off (2000) and a second BAFTA Award-nominated performance as Stephen Baxter in the ITV drama series The Second Coming (2003).
Eccleston garnered widespread attention and acclaim for his role in the 2005 revival of Doctor Who, becoming the first to play the title character since 1996. He departed the role after just one series, for which he won a National Television Award and received nominations for a Broadcasting Press Guild Award and BAFTA Cymru Award. He has since appeared in the television series Heroes (2007), The Shadow Line (2011), Blackout (2012), Lucan (2013), The Leftovers (2014–2017), Safe House (2015), Fortitude (2015), and The A Word (2016–2020) and films such as G.I. Joe: The Rise of Cobra (2009), Amelia (2009), Song for Marion (2012), Thor: The Dark World (2013) and Legend (2015). He won an International Emmy Award for his performance in an episode of the anthology series Accused. On stage, he has played the title roles in productions of Hamlet and Macbeth and starred in productions of Miss Julie, A Doll's House, and Antigone. Since 2017, he has narrated the documentary series Ambulance.