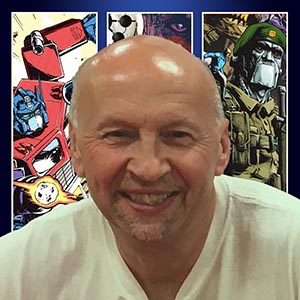 is a writer for comic books, games & TV animation, his name indeliblylinked to Transformers, the 80s toy phenomenon (in 2012 Furman was inducted into Hasbro's official Transformers Hall of Fame).
For comics, he is currently working on The Leopard from Lime Street (in Monster Fun) & The Vigilant, a re-imagining of classic British superheroes,for Rebellion, Transformers '84 for IDW.
With artist Geoff Senior, Furman is the co-creator of To The Death (to-the-death.com), a 10-issue maxi-series combining hard-hitting sci-fi action and sharp-edged satire, and TTD spin-off Killatoa (both currently serialised in Shift Comic). The upcoming Shift Winter Special features new To The Death material by Furman & Senior as well as an all-new story with artist Barry Kitson. A new creator-owned crime noir GN, Five Points (with artist Martin Stiff), is scheduled for release in 2022.
Past comic credits include Alpha Flight, Annihilation: Ronan, Death's Head, Doctor Who, Dragon's Claws, How to Train Your Dragon, Robocop, Robotech, She-Hulk, StarCraft, Terminator, Torchwood, Turok: Dinosaur Hunter, What If? and the 100-volume Transformers: The Definitive G1 Collection.
For games, Furman continues to contribute storylines for mobile build & battle game Transformers: Earth Wars, with two further game projects currently in development.
In TV animation, Furman served as head writer/script supervisor on the hit Nicktoons & CITV show, Matt Hatter Chronicles, and has written for shows such as Beast Wars, Dan Dare, X-Men: Evolution and A.T.O.M.