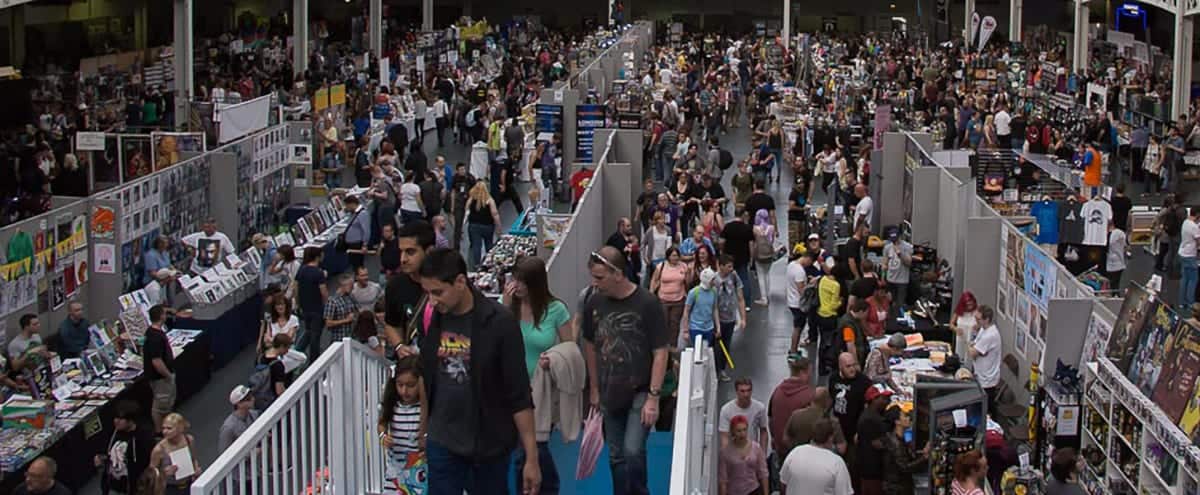 Is London Film & Comic Con suitable for attendees of all abilities?
The LFCC team is committed to making sure that all of our fans have an amazing experience but it is a popular event and as such the venue can get very busy and crowded. There is a lot to see across the many halls of Olympia and so visiting involves a bit of movement around the building and some periods of standing for autographs and photo shoots. They can also be noisy so please consider your individual needs when deciding whether to attend the event.
I require extra assistance while at the event. What are my options?
Extra Help pass – this is a wristband that identifies you to the crew as someone who needs assistance during the event.
Carers Entry – We offer one free carers entry when accompanying an attendee that requires extra help. This permits access to the event for the sole purpose to assist with the full paying attendee and as such those entering with this pass will not be permitted to take part in any activities as an individual e.g. Photo shoots or autographs.
What does the extra help pass do?
Entrance – This information has recently been updated specifically for LFCC 2023 – please review and ignore all previous notices.
If you require extra help there will be registration points in each entrance type depending on your ticket type.

Please note there is no seating available at any of the entrances so if you have difficulty standing for long periods, we recommend you delay your arrival until the show is open.
On arrival make yourselves known to the crew that you require the extra help desk and they will direct you to its location. You will then receive your extra help and carers (if applicable) wristband on presentation of the your documents. Please have these ready to present, along with your ticket in order to then be able to enter the show.
Photo shoots – You must have a valid ticket for the shoot you are attending but if you make yourself known to the crew member in the area and they will expedite your queuing time. Your carer can assist you right up to the shoot inside the booth and standing out of shot whilst the photo is taken. Our photo printing is instant and you can collect your print before exiting the booth.
Talk areas – Where possible we will mark disabled seating but please bear in mind that all seating is on a first come first served basis. Please ask to speak to the crew who will direct wheelchair positioning or will try to accommodate an aisle seat if possible. We operated both free and paid talks at events and any paid talks will be advertised beforehand and require a separate paid for ticket. Your carer can accompany you for free to any talks you have access to.
Autograph lines – In most cases we operate a Virtual Queuing system for busy guests. This means that you do not need to queue for long periods. You (or your carer) collect a numbered ticket at the beginning of the day in the signing area and return any time after that number has been called. As an attendee identified as requiring extra help due to being unable to stand for long periods, once your VQ ticket has been called you will be put towards the front of the queue to reduce your actual queueing time. As a rough guide your actual queuing time should be no more than 10 minutes.
Who is eligible for an Extra Help wristband?
Individuals who may have mobility, physical, vision, hearing, cognitive, psychological, invisible or other types of disabilities are all taken into consideration for extra help. We hope you can understand that we have to ensure that the right people are able to receive help at the show so we require evidence in the format of one of the below documents to be shown upon entrance with your valid entry ticket.
Disability Living Allowance (DLA) award letter
Attendance Allowance (AA) award letter
Blind Persons Registration
Personal Independence Payment (PIP)
Armed Forces Independence Payment
A current and valid Blue Badge (photocopy of both sides)

A medical letter from your doctor or consultant explaining your reasons for needing extra assistance
Please note that the event organisers have the right to refuse access or additional help at their discretion.
What is the accessibility of the venue?
Full details can be found on the Olympia London website
Are service animals permitted?
Assistance animals are welcome. Please contact the venue directly should you have concerns or special requirements.
Am I able to rent mobility aids?
Wheelchairs are available on loan for use at Olympia London's venues, on receipt of a refundable security deposit. We recommend that wheelchairs are booked in advance with Olympia London by emailing feedback@olympia.london. Your wheelchair can then be made ready for you on arrival at the venue.
I have an issue on the day who can I talk to?
If at any point during the day you have any issues, your first port of call would be to speak to our Pit Bosses (our senior crew in red) but if for some reason they can't help, you can ask to speak to our head of crew. Please note that it is very hard for us to rectify any issues you have after the event so please do highlight these at the time so we can assist in making your visit enjoyable.
How do I apply?
To enable us to issue your wristbands as quickly as possible on the day we ask that you pre-register using our online form here
If you have any further questions that are not answered on this page please visit the Contact Us page.