Even if you aren't a cosplayer, our Cosplay Zone is a great way to learn about the work that goes into costumes, pick up tips about different materials that can be used to create the outfits for the characters we've all grown to love and maybe even inspire you to take part next time.
Cosplay Masquerades
The Annual Cosplay Masquerade Final
We are pleased to announce that London Film and Comic Con will be hosting the Cosplay Masquerade Final on the 21st November 2021.
Featuring some of the best cosplayers from across the UK, this is the highlight of Saturday's Cosplay programming.  With a £1000 cash prize up for grabs, do you have what it takes to be this year's champion
This year, the final will be open to winners of all our regional competitions only.
Junior Cosplay Masquerade
This year we will be offering a special masquerade designed just for juniors. This masquerade is for anyone 13 years and under or families with children who just want to have fun.
Everyone who enters will win a certificate and there is a prize for first place which will be awarded by a judge.
Friday and Sunday Cosplay Masquerade
It doesn't matter if you have bought, altered or handmade your cosplay anyone aged 14 years and older can enter this masquerade.
The cosplay masquerades on Friday 19th November and Sunday 21st November 2021 offer fans the opportunity to be in the spotlight, showcasing their costume, modelling and performance. Our guest judges use many factors when determining who the winners are, but everyone who enters has a chance at winning something!
Simply pre-sign up online to guarantee your spot or sign up on the day before 1pm at the cosplay desk. Enjoy up to 2 minutes on stage posing in character or performing a rehearsed routine and have a great time.
Friday's Masquerade winner will win a cash prize (TBC), free entry for the rest of the weekend and guaranteed entry into this year's final.
Sunday's Masquerade gives the chance of winning a cash price (TBC) and a weekend ticket to next year's London Film and Comic Con along with guaranteed entry into next year's final.
Runners up both days will win smaller cash prizes, trophies and certificates.
Saturday Casual Cosplay Masquerade
People of all ages can enter with a bought, altered or handmade cosplay. This is a chance for people just to have fun on stage. There are no judges and everyone will win a certificate.
You can find full details on prizes, judging criteria and rules HERE
The sign up for the 2021 Cosplay Masquerades will appear here a few weeks before the event
Cosplay Guests
Our Cosplay Guests are warm and welcoming, with great advice to be offered to both budding and experienced Cosplayers. Each Cosplay Guest has a specialist skill set from armour work & sewing to SFX make up & electronics and they are keen to share their knowledge with you.
In the Cosplay Zone Cosplay Guests have their own area to display and showcase their amazing work, so make sure to give them a visit and say hello. Our current line up of guests can be found here
If you are interested in becoming a Cosplay Guest please email cosplay@showmastersevents.com and ask for an application form.
Cosplay Stage and Activities
As well as the cosplay masquerade, our stage is filled with entertaining and fun activities which everyone can enjoy. Take a seat and learn new ways to pose or find out how to get started with that new project. Our Cosplay Guests bring new and exciting content to every event for you enjoy for free.
Guest Panels
Tap into our Cosplay Guests specialist knowledge on all things Cosplay. Interactive panels will give you insight into materials and techniques as well as touching on some of the less tangible aspects of the discipline such as screen accuracy and maintaining motivation.
Fun Fandom Prize Quiz
All attendees are welcome to come and take part in our quiz suitable for all ages. Simply grab an answer sheet from the stage, think of a creative team name and let your fandom knowledge do the rest.
Cosplay Sketch Off
Grab a pen and a sketch off sheet and put your artistic skills to the test by sketching the cosplayer shown on screen. Leave your entry at the Cosplay Desk and you'll be entered into a prize draw
Cosplay Bingo
Visit the Cosplay Desk to pick up a Bingo Sheet. Take photos of you completing the Actions and post on Social Media with the hashtag on the sheet and you can be in with chance of winning tickets to a future SM event
Cosplay Workshops
Learn new and exciting skills whilst crafting with foam for free. With four classes each day, why not give it a go and create something spectacular. More information to follow soon.
Cosplay Photo Shoots
Cosplay Photo Shoots are a fantastic opportunity for you to have your photograph taken professionally at our event – these images will be uploaded to our Cosplay at Showmasters Facebook Page after the event, so that you can download them for free! For only £5 you can take a physical copy of the image home with you; a great memento from the event!
Cosplay Facilities
Cosplay Desk
A place to get info about the cosplay zone, the schedule and to sign up for the Friday and Sunday Masquerades
Changing Rooms
There are a number of changing rooms available in the Cosplay Zone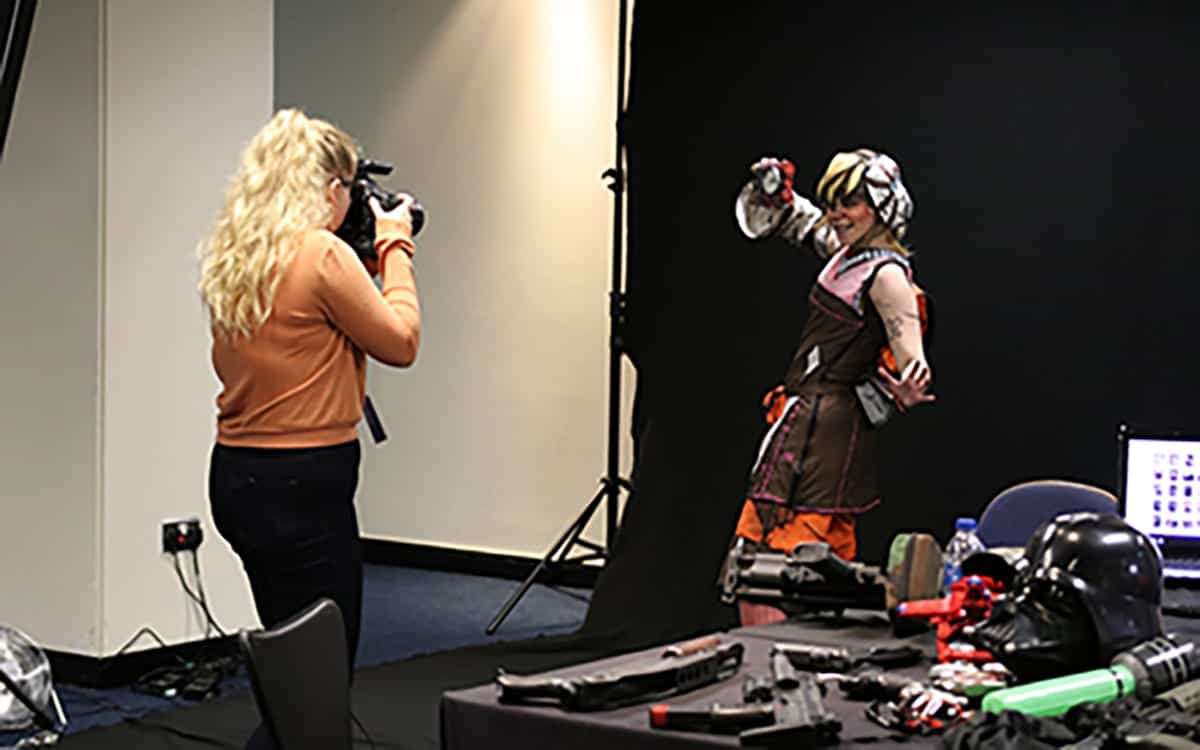 FAQ
Is my prop/costume allowed?
Please see our cosplay guidelines for details of what props, costumes and behaviours are allowed.
Do I have to enter the masquerade if I'm in Cosplay?
Entering the masquerade is entirely down to individual choice, we encourage anyone to take part who wants to, but if you are more comfortable watching then we welcome your support in the audience during the masquerade
I didn't make my cosplay, can I still enter?
Of course! Although you have to have made 80% or more of your Cosplay to be in with a chance of winning first place, everyone is eligible for all other prize categories
Is there an age limit for entering the cosplay masquerade?
We welcome people of all ages to enter the cosplay masquerade. Anyone under the age of 16 will need a parent or guardian with them although they do not have to go on stage!
Do you have changing rooms?
Changing rooms are available at this event
If you are travelling to the event in your Cosplay please be mindful that members of the public may not be aware of what Cosplay involves and keep any realistic weapons props and costumes that could be misinterpreted (such as military style uniforms) covered until you arrive
Is there somewhere I can store my suitcase / props?
We recommend contacting the venue to check what facilities they will have available. We are unable to store any items in the Cosplay Zone
Can I take photos of / with cosplayers?
Most cosplayers would love to have their photograph taken but please always ask before taking a photo
Contact Cosplay at Showmasters